I posted a pic of one of my guns to show the grips to someone interested in a similar pair, and a reply asked for more details on the gun.
My first "gunsmithing" project had been what I thought was going to be assembly of an Auto Ordnance frame kit, circa 1990.
I had a .22 conversion unit for which I wanted a dedicated frame, and the A-O kit appeared to be a cheap solution.
After the project was complete, the saying, "You buy quality only once" had become my favorite, after discarding half the parts in the kit due to poor quality.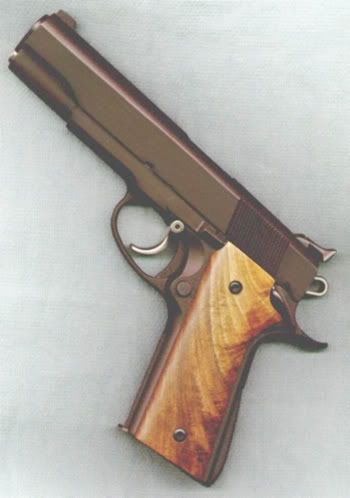 Not really learning my lesson, I decided to build a complete gun, and started with another frame kit, this one also purchased from Numrich/Gun Parts, an ODI Viking, "one of the last 100 made!"
The appearance of the parts suggested it was one of the first 100.
Armed with Hallock's .45 Auto Handbook and the Kuhnhausen shop manuals, I collected the parts necessary for completion.
Slide - Essex
Barrel - Colt G.I. from parts box
Bushing and front sight - MGW
Slide stop, mag release, and grip safety - Ed Brown
Rear sight - Millett
Mainspring housing - S&A
Ambi safety - Mueschke
Small parts, pins springs - parts box
Grips - Herrett's
Finish - Brownell's spray 'n' bake
The Viking was a mid-'80s attempt at a factory DA/SA pistol, using the Seecamp-patented conversion. Again, I imagined "assembling" the parts, but I think the plunger tube was the only part that didn't get some filing, grinding, or polishing.
It was fun, extremely educational, and the gun actually works, though tuning the DA pull is beyond my abilities; I've lived with light strikes in the interest of a lighter pull, or a monstrous pull weight and 100% ignition.